Our Goals
Edit page New page Hide edit links
We at Cornerstone Communications USA (Common Sense for Today) have a number of goals that we believe you have a right to know.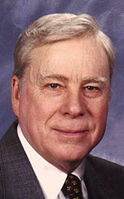 Our primary goal is to be an effective witness of the saving power of Jesus Christ in a person's life. We aren't interested in trying to "cram 'religion' down everyone's throat." We believe that the Word of God is effective if it is taught and preached in sincerity and power. The Bible teaches that all men are sinners (Romans 3:23) and Christ died for those sins, the just for the unjust (Romans 5:8). It further teaches in Luke 3:13 that repentance is an essential part of God's salvation. One must be sorry for his sin and sorry enough to turn from his sin. While no one becomes a perfect person, a real Christian is a changed person. When one repents of his sin, he then receives Christ by faith (Ephesians 2:8, 9). When a person repents of sin and places faith in the shed blood of Christ, he experiences the new birth discussed by Christ in John 3. That is the most important message you will ever hear, and our goal is that you will make that life changing and destiny changing decision today. If so, please contact us for further help. We will suggest a good, Bible preaching church that you could visit. We try to implement this goal by preaching revival meetings, Bible Conferences, etc., and personal witness.

We believe the home is the most important entity in God's creation so we present Christian Couples' Conferences and Child Rearing and Discipline Conferences throughout North America, Europe, Australia, the Caribbean, etc.

Another goal is to communicate to people the Bible teaching on various issues so people can make Bible-based decisions in their everyday lives.

A fourth goal is to publish books, tapes, videos, reports and columns dealing with those issues for mass dissemination.

Goal number five is to take our message into the market place of the media and defend our Bible positions.

Our sixth goal is to develop an awareness in God's creation as recorded in Genesis as opposed to the false teaching of evolution. Through conferences, columns, school meetings we try to emphasize that evolution is a farce, a fake, a fraud and a faith. It is not a fact. In fact, it is not even good science.